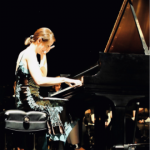 Dr. Kristina Henckel, an accomplished pianist and teacher, is a native of the Czech Republic. She is a graduate of the Academy of Performing Arts in Prague, under the tutelage of Professor Peter Toperczer. During her study she received several awards in competitions held in the Czech Republic: third prize in the Chopin Piano Competition and Smetana International Piano Competition, and first prize in the National Piano Competition of Conservatories, including an award for best performance of Antonín Dvořák's composition. At 18 Kristina debuted with Beethoven's Concerto No. 5 Op. 73 "Emperor" with the Hradec Králové Philharmonic Orchestra. She further collaborated as a soloist with other regional orchestras in the Czech Republic.
After relocating to the United States in 1999, Kristina continued her studies by earning a doctorate in Piano Performance and Pedagogy at the University of Oklahoma. In Oklahoma she acquired additional awards for her performances: first prize in the Donna Turner-Smith Piano Competition and first prize at the Graduate Concerto Competition 2012. In addition, her dissertation "Pianistic Analysis of Bedřich Smetana's Piano Cycle Dreams" was nominated for the University of Oklahoma Provost's Dissertation Prize 2016.
Kristina has performed numerous solo and collaborative recitals in Europe and United States. She also made several recordings for Radio Vltava, Czech Republic. In the fall of 2015 she became a Ritmüller piano artist. In May 2016, she released a CD with the piano trio Turnía featuring the piano trios of Antonín Dvořák and Bedřich Smetana. In April 2016 the ensemble was featured on the radio show Northwest Focus on King FM 98.1 in Seattle, WA. Kristina is also a member of the 4HANDS Piano Duo with Cuban-American pianist Amanda Virelles.
Currently she serves as music faculty at Fayetteville State University and Sandhills Community College in North Carolina.